/ˈsɛnʃʊəl/
adjective
Something that is pleasing or fulfilling to the physical senses (rather than the mind). "Her art was sensual and beautiful"
The representation or expression of something in a tangible or visible form. "She was a living embodiment of sensuality"
I created this program because...
When I began to awaken to my sensuality I found a connection & a love within myself that I didn't know existed...
I found a way to hold & heal myself through heartache...a way to process, feel & release heavy emotions... a way to cleanse the density of heartbreak inside me...
Learning that I could touch my body, move my body, and breathe into my body in a way that brought me immense pleasure sparked a flame of independence within me...
It awoke a profound confidence inside me that I didn't need anything outside of myself to feel love, pleasure, safety, support, & a sense of being held...I didn't need anything outside of myself to heal...
I could give it all to myself.
I could heal myself.
And my desire is for YOU to feel the same.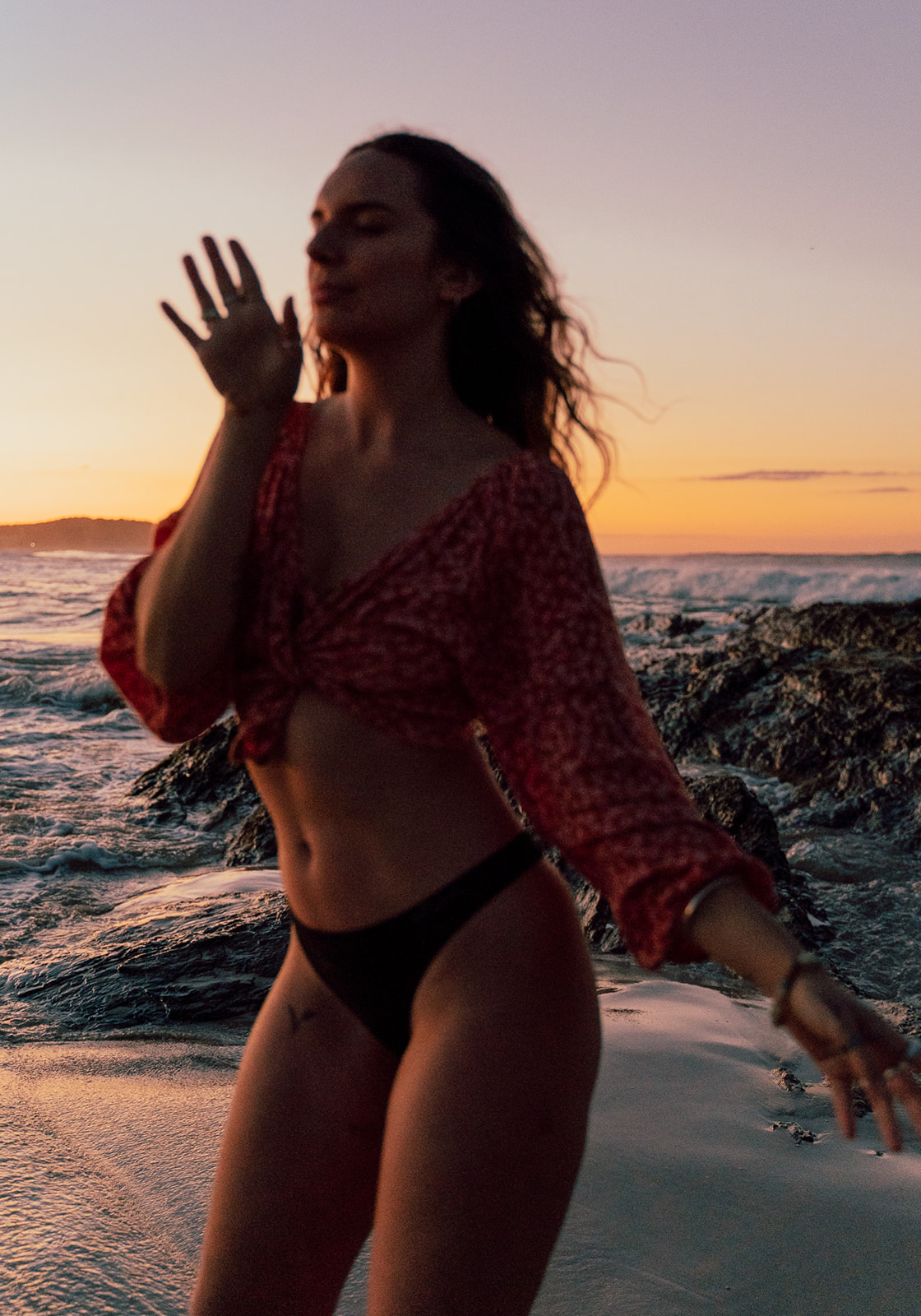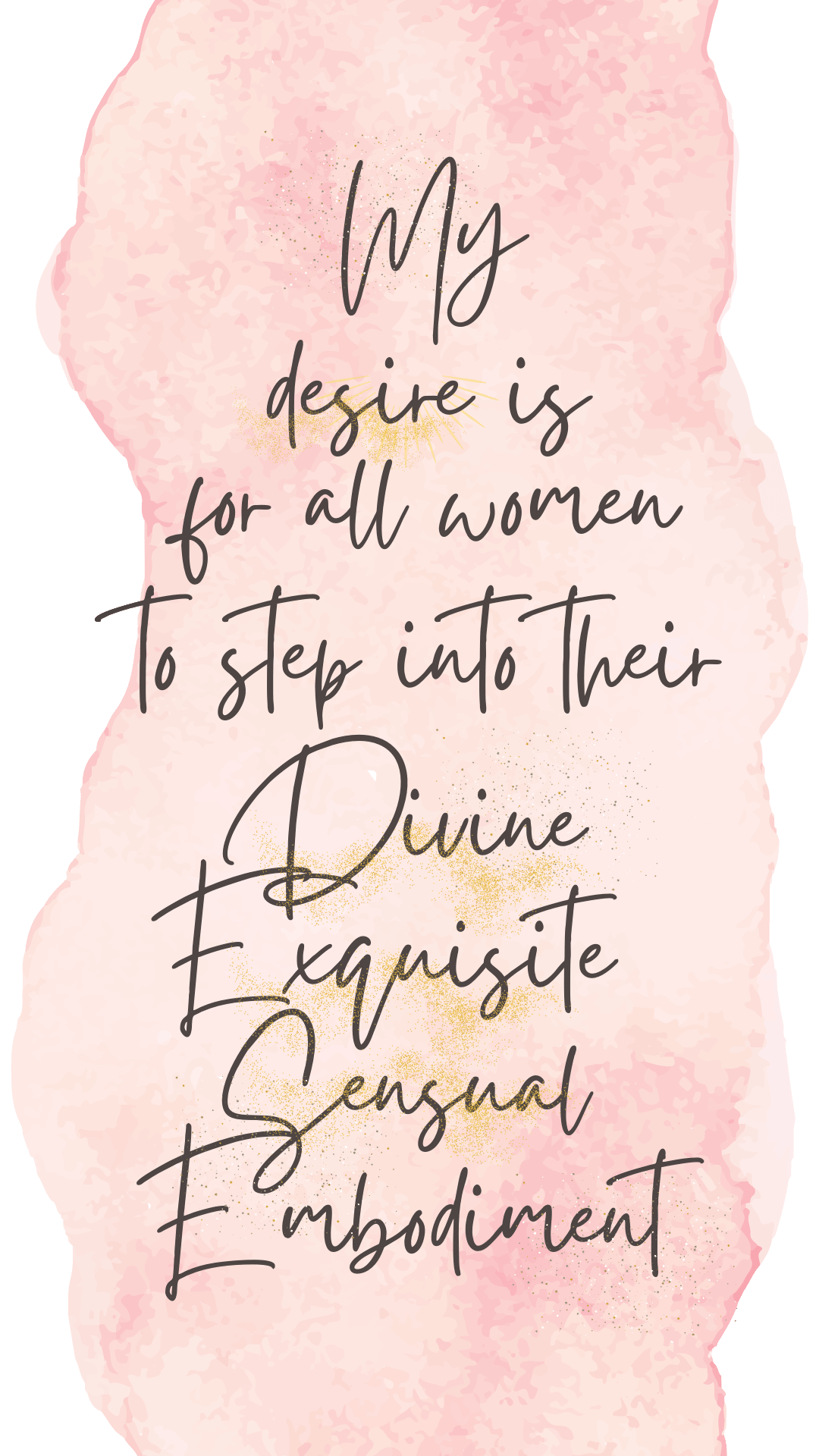 ...So how do we worship this magnificent female body?
Sensuality is her hymn
Movement is her gospel
Pleasure is her prayer
It's time to honour and adore our delicious feminine existence
Time to marvel at the exquisite beauty of our own bodies
Time to light the flame of sensual expression at our altars
Time to open the floodgates of our emotions & cleanse our sweet, tender hearts
6 guided sensual embodiment video practices
Learn about the sacral chakra, its connection to our womb, our creativity, our sensuality & sexuality, how to activate & awaken it, & why we want to awaken it! Learn what sensuality actually is & how to access sensuality in our everyday lives.
A 30-minute guided sensual dance ceremony including yoni, womb & sacral chakra activations, hip opening flows & intuitive dance. SO FKN JUICY!!!!
A sweet guided medi to bring you all the way back into softness after your juicy sensual dance.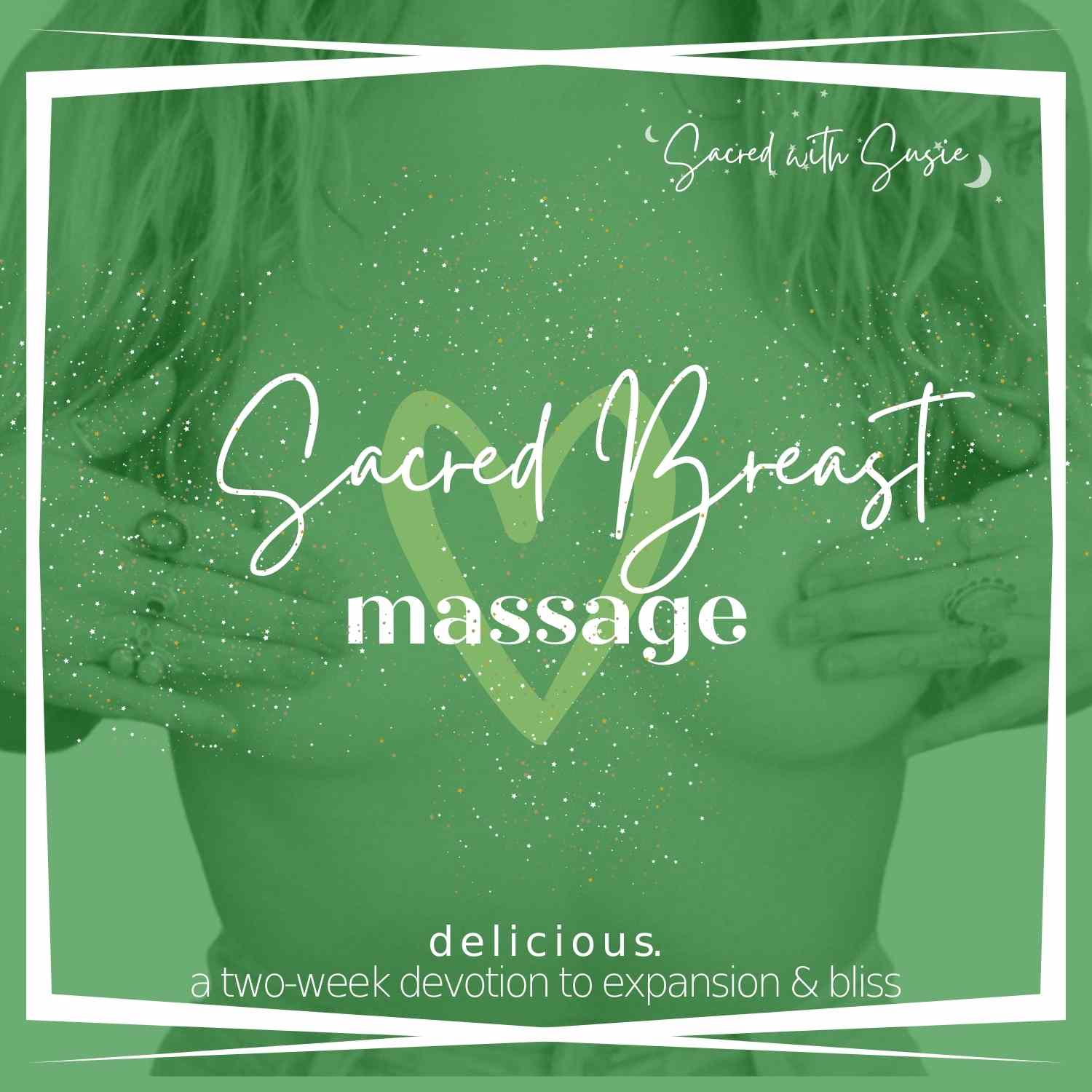 An introductory, guided breast massage practise, where you'll connect to the soft, sensual tenderness of your sweet heart. This practise will blossom the beautiful rose of your heart chakra. Plus videos on the purpose of breast & womb massage, & which essential oils to use.
Give yourself the most delicious full-body sensual massage, using activating & divine feminine essential oils & base oils that increase hydration & suppleness of your skin. In Sanskrit the word for oil & love are the same, so they believe enveloping your body with oil is the same as enveloping it with love! Love up on that beautiful body Queen! This is sacred body lovin'!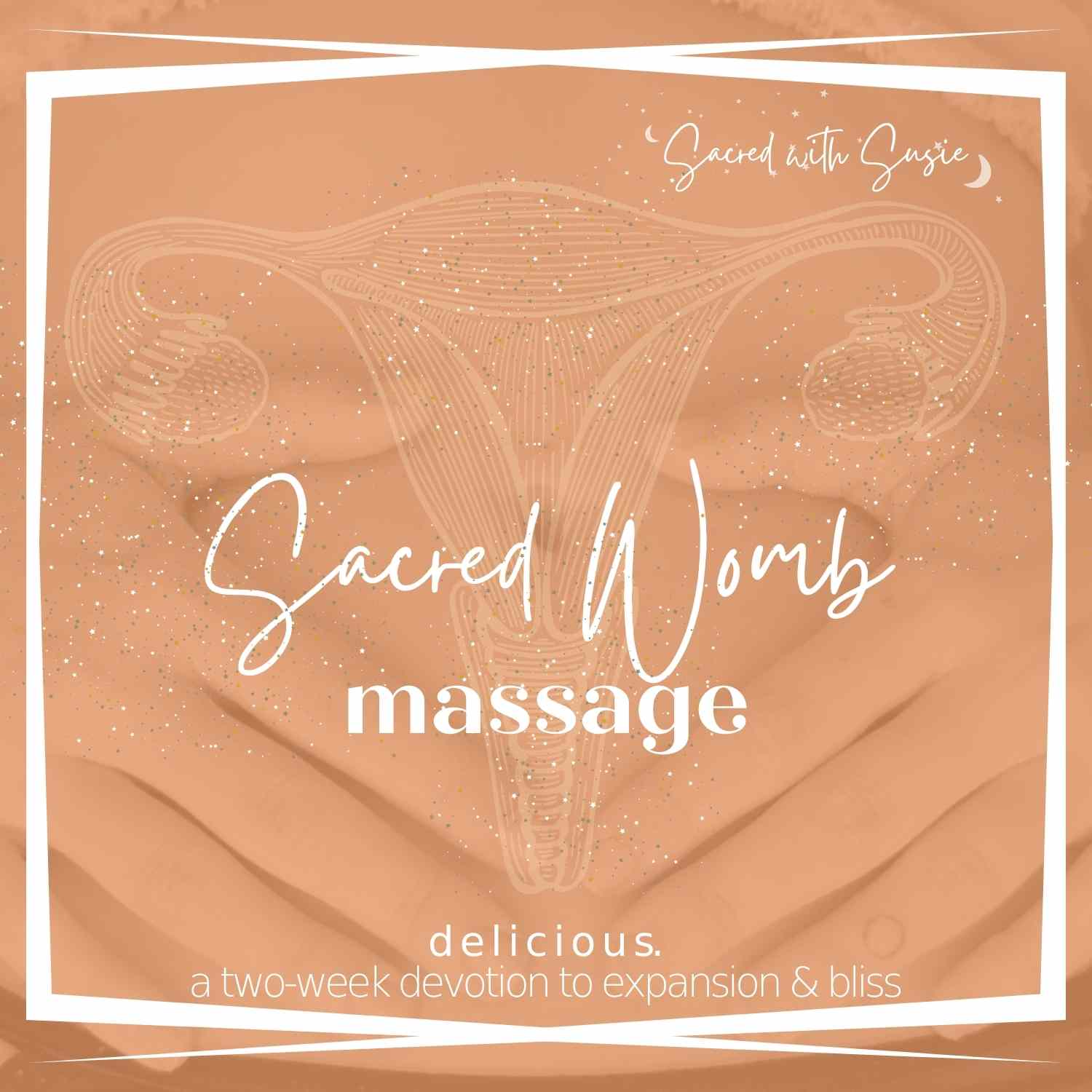 A guided womb massage practise to connect to the divinity of your womb & honour your female body. Womb massage is so healing to our connection with our divine feminine essence, especially if you've denied aspects of your feminine nature in the past as I have. I LOVE to practise womb massage when I'm bleeding as I find it helps relieve cramps.
3 guided sensual embodiment audio meditations
Omg this one is so yum. A luxurious 45-minute guided self-pleasure meditation. Your fingertips are infused with golden radiance & love, & as you touch & pleasure yourself to the peak of your practise, you'll finish bursting with golden divinity, oozing self love from every pore on your skin.
Fuck yes. That is all. Connect to your sovereignty, your autonomy, your independence. Your strength. The seed of your power. Your empowered wild woman. Pachamama - Mama Earth. Your life-giving, life-creating, pleasurable, powerful pussy. Mmmmmmm!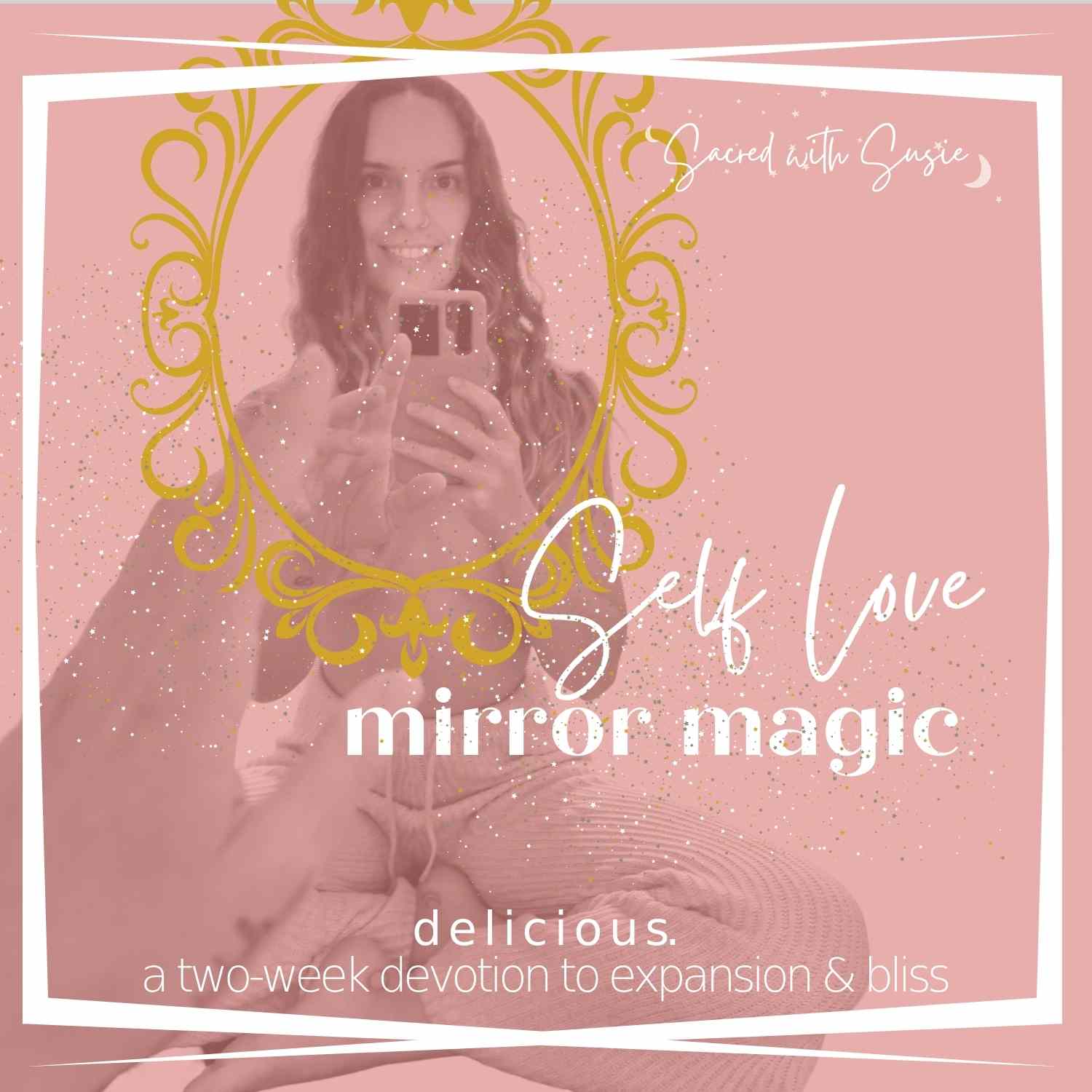 This medi will connect you with deep, unwavering self love & body love. Explore the beauty of your own body through the mirror, feel the warmth & love in your heart, love up on every inch of the deliciousness that is you, Queen!
sensual embodiment journalling prompts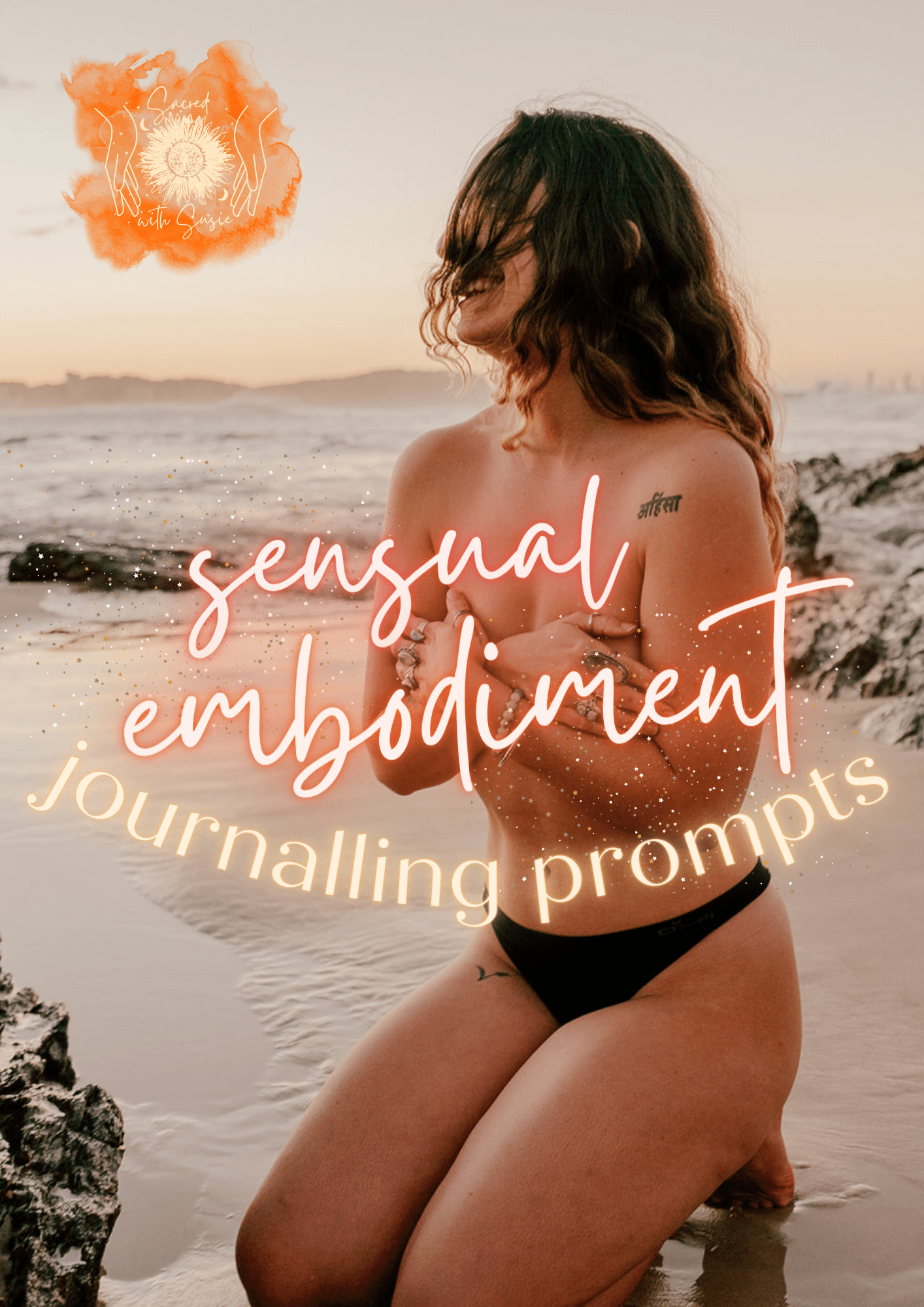 Dive deeeeeep into your emotions - understand, process, feel & release them
Create a loving relationship with your beautiful, delicious female body
Come back into a state of inspiration, creativity, juiciness & pleasure (& out of feeling stuck, stagnant & uninspired)
Add more sensuality into your everyday life
Connect with your own pleasure & become sovereign in creating your own pleasure!
Embody the qualities you desire in others, use jealousy as inspiration & become who you want to be!
Plus the most loving, supportive & beautiful affirmations, just for you
5hr sensual embodiment playlist
To keep you moving & expressing after the guided sensual dance ceremony ends. Babe, you can be in your own sensual ceremony for as long as you want & need to! Be in your own energy, take yourself where you want to go. Release, cry, moan, sob, express, shout, shake, dance, flow, get sexy, get slutty...you do you boo.
2.5hr energy-moving playlist
Sometimes I just wanna dance it the fuck out. This playlist is to shift particularly heavy or stuck emotions, or to DANCE YOUR WAY BACK TO POWER, PLEASURE & BOSS BABE VIBES if you've shifted something dense through journalling & another practise, but still aren't feeling fully embodied & in your power! YES BABY!
I used to be the person who never cried
Especially in front of other people
I used to hate being a woman
I rejected everything about it.
I've taken myself on a journey over the last few years
A journey to heal the rejected feminine within me
While coming back home into my sensitivity & emotional nature has brought with it the pain that comes with fully feeling everything
I honestly wouldn't have it any other way
It feels so cathartic to finally let myself feel
And to love every second of being an emotional, sensual, sensitive feminine soul
In a divine female body
The care package goes like this..
1. You sign up using the button below & all the juicy content is available to you right away!
2. You lead yourself through the sensual embodiment practises, in your own sweet time & way, in your own safe & sacred space
3. Your inner Sensual Queen is activated!
4. Oh and you get access to this content FOREVER. Yum!!!!
oh, & did I mention you also get bonus content?!
2 recorded videos to support your sensual journey
✓ You feel a tingle of curiosity around the words 'sensual embodiment'
✓ You're longing to feel sexy, sensual & seductive
✓ You're feeling uninspired or lacking in creativity
✓ You're not feeling connected to the sweet, juiciness of life
✓ Your experiencing heartache or your heart needs healing
✓ You're ready to feel, release & heal dense emotions in a healthy, juicy & pleasurable way
✓ You're ready to open yourself up to pleasure
✓ You struggle with codependency
✓ You want to give yourself everything you've always looked for outside of yourself
✓ You want to learn a pleasurable & juicy way of moving emotions through your system, you're craving emotional mastery
✓ You crave a deeper connection to your body but you need a little help getting there
✓ You're crying out for confidence in your expression
✓ You yearn to be the woman who oozes self love, sensuality & power
✓ You're ready to liberate yourself
✓ You dream of hotter sex, deeper pleasure & orgasmic bliss
✓ You are desiring to feel fearless, confident, turned on, and activated by life
✓ You are thirsty for radiant worth
✓ You know you hold deep power but you don't yet know how to activate it
✓ You are ready to devote yourself to your own body
✓ You crave empowerment & you're ready to take yourself there
✓ It's time to fall the fuck in love with yourself!
? HOW LONG WILL I HAVE ACCESS TO THIS CONTENT?
Forever baby! It's my gift to you xo.
? WHAT'S THE TIME COMMITMENT?
You get to do these practises as often as you like...There is no time commitment 🙂
? WHEN DO WE START?
Whenever you like baby! All the yummy content is available to you as soon as you sign up.
? DO I HAVE TO ATTEND ANY LONG ASS LIVE CALLS?
Nopeeee, you get to do these juicy practises wheneverrrr you feel like it, in your own sweet space & time!
? WHO IS THIS NOT FOR
Someone who is not ready to open themselves to deeper states of being. Someone who is not open to trying sensuality, self pleasure, self massage and self love practises. Men - sorry boys, this one's women only, but I still love you too.
? DO YOU DO REFUNDS
No love, I trust you to only make the investment if it's a full body fuck yes.
? I HAVE A QUESTION
Yay! I can't wait to serve you. Send me a dm on Instagram & I'll get back to you asap x
Your inner Sensual Queen is so ready for this...